So I know I said I wouldn't be blogging today since my weekend officially started at 4PM, but surprise! Here I am!
And with a few changes too! You like?
About a month or so ago, I got an email from the lovely Amy (love her name!) from The Charming Blog saying that I had was one of her five blog design giveaway winners. I was SO excited! I've been wanting to give this little blog of mine a makeover for some time now, and the timing was just too perfect with winning this giveaway.
Amy was a complete joy to work with. She made my blog everything I wanted, and MORE (check out my new About Me page!).
On top of completely redo-ing my blog, Amy is also planning her wedding for June 16th. Crazy, right? I don't know how she does it all, but she does a great job of it!
Thank you so

much Amy, I really can't thank you enough!
Since I popped in, I couldn't help but link up to Kerrie's Dear Blog Linkup Party.
It's a Linkup Party of everyone's first ever blog post. Such a great idea, right?
The link up is available until the 15th, so head on over and join the party!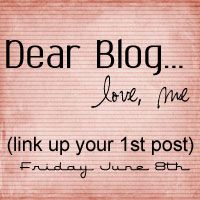 Okay, now I'm out for real. Happy Friday, everyone!
XO