I guess this week is link up week for me, and I hope you don't mind!
I couldn't be more excited about co-hosting the first ever Little Life Lessons link up! This idea was born from a big group of us Influence ladies, and I'm so glad it's time to bring it to life!
The idea is to post about lessons you've learned or are learning along the way. Whether it be something you wish you could tell your younger self, or just something you want to document so you have it to look back on, we want to hear about it!
I would write to my younger self, but believe it or not, she actually exists in the flesh.
Meet my mini me:
That would be my beautiful, much younger sister, Milissa. And if there's one person that I would hope can learn from my little life lessons, it would be this girl.
So here we go, a letter to my younger sis.
I remember elementary school like it was yesterday.
It's easy to look back now and think of those days as the easy days, but I remember that not all days were like that.
Some days were. Some days we were filled with long walks during our lunch breaks, walking and talking as we called it. Some afternoons were filled with fun play dates, and I met some of my very best friends (still to this day) when I was in elementary school.
But some days didn't feel quite that easy back then. Some days were packed with catty fights with friends, or feeling like I was so different from the "popular" crowd.
Even at that young age, I can remember that all I wanted was to feel wanted. I wanted to feel special.
I was constantly desiring the attention of boys, or the friendship of girls. That is how I built my self esteem. And when I felt noticed? I felt good.
But when I didn't feel noticed? Not so good.
And that desire to feel wanted and liked followed me from elementary school, to junior high.
From junior high to high school.
And from high school to college.
Sure, maybe some would say that's human nature. That we're designed to seek the approval of others.
But I've learned there's another way, and I want to share it with you.
Mil, you are wanted. You are special.
The God of the Universe is so in love with you. And that worth that you might be searching for in your relationships with other people? That worth is found in Him, and Him alone.
And when you find your worth from your relationship with Jesus, it will never go away.
So always be the beautiful, funny and unique person that you are.
And it is my prayer that you will always find your self esteem from Jesus, who loves you more than anything. And that way you can give your whole heart to others, without searching for approval in return.
I love you so much, Mil.
-Amy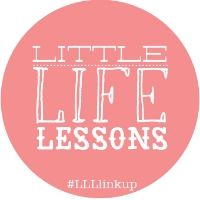 <a href="http://www.sweethomesb.blogspot.com/" target="_blank"><img src="http://i1072.photobucket.com/albums/w365/amyreed22/6844c08d-66b6-461c-b91f-92798e6e9cf1_zps2a44be71.jpg" alt="Sweet Home Santa Barbara" width="200" height="200" /></a>