Excited to participate in this link up with Lauren and Tiffany!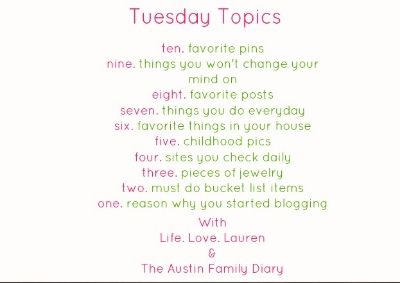 Today's topics:
9 things I won't change my mind on.
One // Jesus is my savior.
And thank goodness for that! Because I for suuure need one :)
Two // Mexican food is always worth the calories.
I'm from Southern California, so I was basically born with a burrito in hand.
Except this is probably legitimately true, considering Mama's last meal before I was born was at our favorite Mexican spot, Tony's.
Three // A work out makes any day better.
No matter how I walk into the gym, I walk out happier.
Four // Crazy or not, family is everything.
Some days we may all be a little crazy, but my family is my world.
And I can't wait to see them this weekend :)
Five // I need the Bible.
It tells me how to live my life.
I might not always be good at following it, but I need the guidance.
Six // Compliments go farther than you know.
Compliment people.
Friends, strangers, anyone. A little compliment can go a long way.
Seven // Driving + loud music = perfect therapy sesh.
Works every time.
Eight // A conflict takes two people. Apologize.
Even if I don't feel as though I need to apologize, I always feel better after I do.
Nine // Choose love.
There is good and bad in every day.
I need to choose to find the good.
Choose to focus on the love.
What are some things you won't change your mind on?