Blogger gift exchanges are the best, aren't they? You get to know another blogger, get to have fun shopping for them, and get a lovely package delivered to your door?
There's just nothing better than snail mail.
Last year, I signed up for the 2012 Blogging Party and was paired with Kelly, who has since gone on to have the most adorable baby boy. (If you could use some more cuteness on your Instagram feed, check out @kellymann).
When I saw that the party was continuing this year with the Valentine Blogging Party, I knew I had to join in the fun.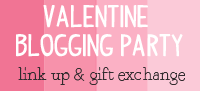 Sarah is a wife and a mommy to a cute little one, and blogs over at Random Thoughts & Feelings. She happens to live just south of me, so I know exactly what she's talking about with that 405 traffic.
And not to mention, she picks out great gifts!
I love everything! And I know it will all be immediately put to good use.
Especially the envelope clutch which she made! Girl is crafty too!
And her birthday was on Sunday, so head on over and wish her a Happy Belated Birthday, will ya?
Love you guys! Have a wonderful Tuesday!